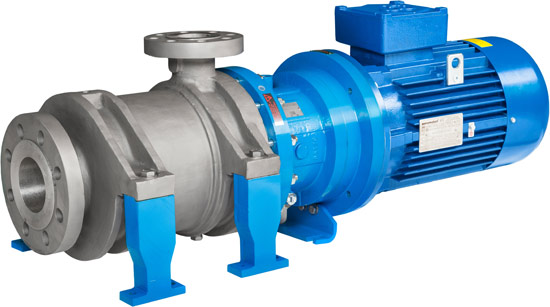 End Suction, for the lowest NPSH required. Top discharge, center line mounted, for high stability in heavy duty, bare frame mounting, close couple on request.
Use and maintenance manual
SC MAG-M pumps range meets the requirements on custom-built solutions in the process industry, in the following areas:
Chemical and pharmaceutical, transfer of aggressive, highly corrosive liquids, paper, food processing, plant engineering and construction. For all industries that choose a pumping leak-free and low maintenance for use continuous (abandon of mechanical seal pumps).
Pumps of the series SC MAG-M are hermetic Sealess mag drive pumps, no mechanical seal.
Low NPSH pumps (0,5m) and selfpriming capability make this pump ideal for loading and unloading applications.
The rear shell is made of one single piece, no welding, ellipsoidal profile that has been studied to withstand higher pressures than the traditional one.
Standard construction with Hastelloy® C276 for pressure up to 50 bar.
Titanium Alloy is an upgrade when higher pressure ratings and increased effi ciency are required.